BIKER'S RUN
 (Shifters and Lovers #3)
Can Logan stop running from himself?
Will Noah stand up for his own happiness?
BUY LINKS
For those of you who haven't caught up with the series yet, each book can be read as a stand-alone, but the stories do include crossover characters.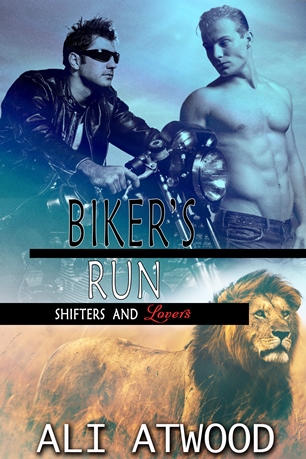 Logan Ripley is an agent for the Drug Enforcement Administration. He's great at his job but lousy with people. Raised by a drug abusive father, he knows that some feelings are better kept hidden.
Noah Nicklin is a security specialist and lion shifter, whose inbred senses, strength and speed is sought after by the DEA. The Federal Agency is conducting a sting operation, using undercover agents to infiltrate an outlaw biker gang and take down a dangerous drug lord.
An enthusiastic Biker, Noah is thrilled to be part of the covert mission, especially since he'll be teaming up with Logan Ripley, a wet dream come to life.
EXCERPT
Logan Ripley walked back to Securecon's offices with alarm bells going off in his head. He'd have to watch himself around Noah Nicklin. He could read faces as well as he could shoot, and Noah Nicklin's eyes had communicated sexual awareness, which could prove to be a problem. Not that the shifter wasn't his type, he definitely was, with that long fair hair and slim muscled torso and those intriguing  eyes, the color of golden honey. However, when it came to a rumba between the sheets, Logan had two simple rules. The guy had to be hot, and have no expectations of a future relationship. Logan had come to terms with his personal issues years ago, accepting that he was doomed to spend the rest of his life alone.
* * * *
The early morning air was already heating up when Noah and Brand met up with Logan.
The DEA agent was dressed in black leather today, radiating testosterone as he slid his sunglasses down his nose to study the shifters' bikes. Noah's silver and black Harley was relatively new. He'd saved for a year to buy it and it had plenty of power behind it.
"Good machines," was all Ripley said before he turned and walked toward his own top-of-the-line Harley.
Noah studied the agent's wide shoulders and well-rounded ass beneath his tight leathers, imagining again how he would look naked. It was going to be tough controlling himself when Ripley was near.
"You're hot for him, aren't you?"
Noah glanced up guiltily at Brand's whispered remark, looking in Ripley's direction to make sure he hadn't overheard. "Yeah, I'm attracted," he said, watching Ripley throw a long leg over his bike and fire it up, "but I doubt it'll amount to anything. The agent obviously has a firm grip on his emotions, even if his looks could make any dick come in an instant."
Brand chuckled at the aside. "I've never known you to give up so easily when you're in lust with a guy."
As much as Noah would love to get the mercurial Ripley between the sheets, he didn't want to make a fool of himself. "We'll see how it goes."