Shifters and Lovers Book 2
Who knew the mission would come with extra rewards.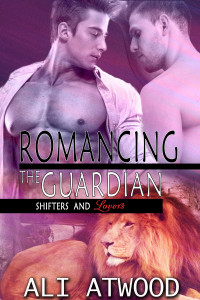 Rick Cantrell is an up and coming actor, who's been featured in the top ten of the sexiest men's polls. He also has stalker on his trail.
Jordan Riker is a lion shifter with a difficult past. He quit his pride due to his controlling father's demands, and he was burnt by his boyfriend shortly after. Now, he's a newbie bodyguard, assigned to protect the seriously hot, Rick Cantrell. Though Jordan is immediately drawn to the charismatic actor and recognizes the connection between them, he resists Cantrell's sexual advances to uphold his professional standards and guard his heart from further hurt.
Rick Cantrell is a never-take-no-for-an-answer kind of guy. Despite his bodyguard's best efforts to push him away, Rick thinks he may have the man of his dreams in Jordan Riker.
Excerpt 1
"Brody Maitland and his husband sound like decent guys."
"They are. I have tremendous respect for both of them."
"Do you always wear your hair in a ponytail?"
The abrupt change of topic jolted Jordan. "What?"
"Just wondering." His gaze dropped to Jordan's crotch, making it clear he was speculating on the color of his pubic hair, which made Jordan pants tightened. Damn it.
"Will I get to meet them?"
"What?"
"Maitland and McQuade."
Jordan shook his head. "I don't think so. They're both working on a project in a northern state at present."
"Too bad."
Cantrell's continuous flirting was wearing Jordan down. He felt like he was on a sensuous journey into hell. Thank god, Noah Nicklin was flying in as backup. It would save him from spending any longer than was necessary with the alluring actor.
A few beats of silence followed while Jordan, picked up his glass of water and Rick took mouthful of wine. Cantrell still continued to watch Jordan over the rim of his glass, as if he were examining nuances of expression, trying to read his thoughts. When he put his glass down and sat back in his chair, Jordan felt a sudden stirring along his inner wavelengths. Shit what now?
"What would you say if I told you I have an overwhelming urge to kiss you right now?"
Jordan's heart jumped, but he controlled his voice. "I'd say that's a bad idea."
"Why? You can't deny there's a strong attraction. I know it would be good between us. Plus, I'm certainly not going to tell anyone that you're gay, if that's what's bothering you. I have to stay closeted myself, or risk losing the leading roles."
Jordan avoided a straight answer because he was too conflicted to voice one. Once again, he fell back on his professional code. "I have consider what impact our getting involved could have on this case. Your stalker might be out there planning who knows what. If I'm distracted by sex, I can't function at my top level." He paused, picking up his glass. "Added to that, I don't figure you for a person who does idealism. You seem to be a right now kind of guy, so for you it would merely be a long one-night-stand."
A twinkle came into the actor's expressive eyes. "Does that mean you're looking for true love?"
Jordan's fingers tensed in his lap. "Even if I were on the lookout for someone special, my present situation doesn't lend itself to a long-term relationship."
"Cantrell watched his face closely. "Short-term's better than nothing."
Jordan huffed out a breath. "Can we change the subject please? Why don't you tell me about you?"
Cantrell's lips curved at the corners. "Am I looking for true love, you mean?"
Excerpt 2
After a hard swim of fifty laps, Rick climbed out of the hotel pool, pushing his dripping hair away from his face as he walked to a secluded spot and flopped down on a lounger. Unfortunately, the cold water had done nothing to damp down his semi-erection, which pressed against his black swim briefs. As discreetly as possible, he adjusted himself, then pillowed his head with his arms and glanced at the cause of his discomfort.
Riker was sitting upright on a chase lounge, wearing an orange t-shirt and gray swim shorts. Ostensibly he was reading a mystery novel while he watched the goings on in and around the pool area. Rick lowered his gaze to Jordan's crotch, wondering again how much meat he was packing behind his sensible swim shorts… When his cock moved, he dragged his gaze away, wondering if he should give his stand-in and occasional fuck buddy a call. What would Riker think of that? Would he leave them alone in the suite to do their thing, or stay because he was duty-bound? He blew out a breath. The problem was he didn't want anyone but Riker, his mouth, his cock, but since they weren't going to fuck, all he could do was fantasize and self-serve. With the daydream running through his mind and the sun warming his back, Rick didn't recall drifting off, but he came sharply awake when a hand fell on his shoulder. "Yeah, what's up?" Turning onto his back, he rubbed his eyes, squinting up at a face haled by the sun. "Jordan?"
"You've been asleep for almost an hour. I was worried you'd get burnt."
Rick had to laugh. "Well, thanks, mom. Do you want to rub sunblock on me?"
Buy Links: