Coming Soon
SHADOW DANCE

STANDALONE
AMNESIA ROMANTIC SUSPENSE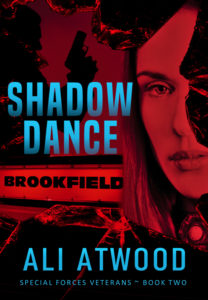 Shadow Dance is a romantic thriller, with no cliffhangers and a HEA ending. The book includes steamy love scenes intended for mature audiences.
She awakens on a bus in a small California town. She has no name, no luggage, and no idea how she got here.
Special Forces veteran, Sam Butler, is in town visiting his sisters, Maggie and Kayla. The sisters know Sam hid stuff from them about his time with Special Forces, but they don't know what he does for the government now, as an independent covert contractor. Ostensible, he heads up a security and crime prevention firm in Los Angeles.
Maggie, the older sibling, has taken the amnesiac victim under her wing, naming her Hope. Maggie asks Sam if he could look into Hope's unknown past.
Though Sam keeps his emotional cards close to his chest, having struggled for years to make sense of his wife and child's death, one glance at Hope and her haunted green eyes, and he can't say no to helping her. But his background probe turns up things that are very wrong. A formidable enemy could be following in the mystery woman's wake.
At the same time, Hope becomes more alarmed as she starts to recall bits and pieces from her past.When events intensify, and it becomes a race to catch the killer or killers before they show their hand, Sam and Hope face complicating factors, like falling in love.