Scoring the Boss

Cody Madrid wasn't born into privilege. He grew up in a crime-infested trailer park and suffered a childhood from hell. The gritty start to life didn't break him. It fired his determination to make something of himself. With discipline, hard work and some unexpected luck, he founded Starwest Industries and built it into a multimillion-dollar empire.
Ben Jackson grew up in a loving family, enjoyed a picture-perfect childhood and aspires to become a fine artist. He's vacationing in Greece when he literally falls at Cody's feet. Their meeting is electric, but forestalled when Ben receives tragic news from home. As a result, he puts his artistic ambitions on hold, and looks for a full-time job to help support his family.
When Ben is hired by Starwest Industries, he has no idea that Cody Madrid owns the company. Their professional relationship means Ben has to work closely with the most compelling man he's ever met without falling in love with him. Though Cody is still closeted, he finds himself falling hard and fast for the blond, blue-eyed Ben. But Cody has issues to work on, and someone has a hold on Ben. He's been trapped into living a lie that could ruin any chance of a future with Cody.
Second Shot (A Straight to Gay Contemporary Romance)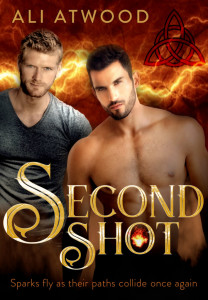 Dillon McQueen has magic in his blood, but it's untrained and hard to control. His spells don't always hit the mark. He wishes there was someone he could turn to for guidance, but he was abandoned as an infant, and his heritage remains a mystery. Out in the everyday world, Dillon has a law degree from Harvard, but opted to work independently, on the investigative side of things.
Enter Nick Montana, former Army Ranger, still connected to Special Forces, presently working freelance. Six years ago, Dillon had a mad crush on the enigmatic Montana, but his feelings went unfulfilled, as Montana is straight. Now the ranger steps back into Dillon's life to ask him to team-up and rescue a young boy who was kidnapped by human traffickers.
When the two men go undercover at a male strip club, to play the roles of gay men, Dillon inadvertently casts a spell that has interesting repercussions.
Archer ( Urban Wizards #1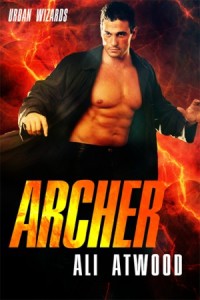 Archer McKenzie is a modern day wizard whose heritage dates back to the sixteenth century. While Archer has a wealth of magical talents at his disposal, he chooses to live under the radar, with a day job as a private investigator.
Popular artist, Kirby Langston, believes the man he's been dating could be The One, until a violent street encounter throws him into the path of the lethally seductive McKenzie.
When Kirby hires Archer to find his missing brother, everything changes. Archer and Kirby must fight against the black magic wrought by a powerful enemy in the ultimate battle for survival.
Biker's Run (Shifters and Lovers # 3)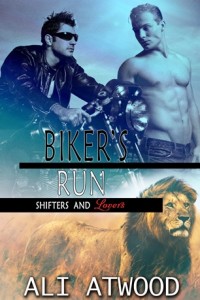 Logan Ripley is an agent for the Drug Enforcement Administration. He's great at his job but lousy with people. Raised by a drug abusive father, he knows that some feelings are better kept hidden.
Noah Nicklin is a security specialist and lion shifter, whose inbred senses, strength and speed is sought after by the DEA. The Federal Agency is conducting a sting operation, using undercover agents to infiltrate an outlaw biker gang and take down a dangerous drug lord.
An enthusiastic Biker, Noah is thrilled to be part of the covert mission, especially since he'll be teaming up with Logan Ripley, a wet dream come to life.
Romancing the Guardian  (Shifters and Lovers #2)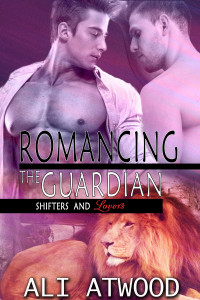 Rick Cantrell is an up and coming actor, who's been featured in the top ten of the sexiest men's polls. He also has stalker on his trail.
Jordan Riker is a lion shifter with a difficult past. He quit his pride due to his controlling father's demands, and he was burnt by his boyfriend shortly after. Now, he's a newbie bodyguard, assigned to protect the seriously hot, Rick Cantrell. Though Jordan is immediately drawn to the charismatic actor and recognizes the connection between them, he resists Cantrell's sexual advances to uphold his professional standards and guard his heart from further hurt.
Rick Cantrell is a never-take-no-for-an-answer kind of guy. Despite his bodyguard's best efforts to push him away, Rick thinks he may have the man of his dreams in Jordan Riker.
Bound to Brody  (Shifters and Lovers #1)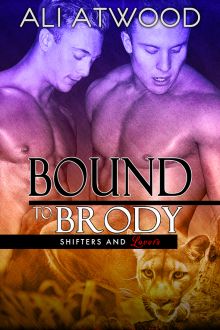 Zac McQuade is a former marine living two lives. On the surface he's a special agent for the FBI. Undercover, he's an assassin for the Secret Intelligence Service. When Zac returns to his childhood home for his niece's christening, the last person he expects to see is Brody Maitland, his former college crush. Though Zac's attraction to Brody has gone unfulfilled, he still thinks of him as the one who got away.
Dr. Brody Maitland is a practicing psychologist with a few secrets of his own. Though he has always admired Zac, he thinks he is terminally straight. Currently, Brody is conducting an off-the-record investigation, in search of a young male patient who's gone missing. Believing Zac's cover story, Brody enlists his help to solve the intricate case, plunging them both into a deadly game of intrigue and deception. As the attraction between the two very different men heats up, they are faced with the ultimate test of love and loyalty.
Three to Tango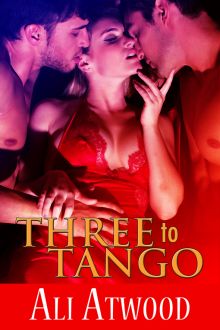 Remy Adara has been waiting for a chance to even the score with Jett Vega — he's the hotter than hot ex-lover who hung her out to dry, causing her to lose her dream job with Starfleet Galactic.
Fate takes a surprise swing when Vega contacts Remy and wants to talk. While she journeys to confront Vega, Remy runs into Bric Rayder, a Starfleet instructor she's lusted after for years. It turns out that Jett and Bric know each other, and there's more to the hunks than meets the eye.
Huntress Takes All (Huntress Chronicles Book # 3)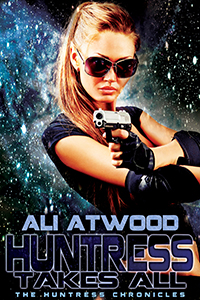 Brig Monroe is a brainy security specialist with unique paranormal abilities—a geek with muscles. When it comes to the up-close-and-personal, Brig likes sex as much as the next guy, but she doesn't do emotion. She's amused by people who believe in true love.
Duncan Cameron is a purebred Scottish prince, and sovereign ruler of the rim planet, Ben Nevis II. The media likes to portray him as a playboy. The assassins on his trail call him the target. When Brig is hired to fortify Cameron's defenses, her perspective on life is put to test the instant she meets the dazzling prince. The last thing she needs is the distraction of white-hot lust when one-step in the wrong direction could mean death for both of them.
Christmas Unexpected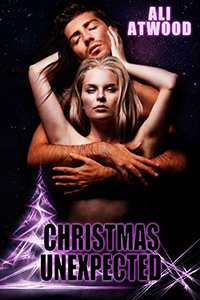 When Lieutenant Kina Tamar graduated with honors from the Starfleet Academy, she was aiming for a pilot berth aboard a premier warship. Her dreams are shattered by backroom politics and she ends up skippering a Starfleet freighter. Bored beyond belief, she's about to resign when she's implicated in a smuggling ring.
The officer sent to interrogate Kina is Colonel Jake Lancaster — her charismatic instructor from the Academy. Soon there are shadowy assassins on Kina's trail, and she's on the run with Lancaster. Along the way, she cracks the hot colonel's resistance and enjoys a wild night of lust. Later, when she learns the truth about the Christmas tragedy that destroyed her family, she's forced to make a devastating choice.
Empress Karena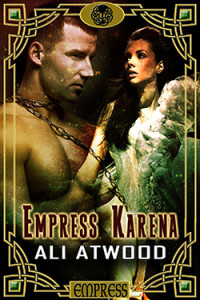 Emerald-eyed Karena is the empress of Trudane, a land where the women run the show and the men, who are considered brutal lesser creatures, are maintained in harems. Several times a year, bands of Trudanese females visit other worlds to hunt males to be sold as breeding slaves.
When Luc Van Starr is captured and transported to Empress Karena's palace, he finds an intelligent, disarming beauty whose appetite for sensuality matches his own. While the imposing Karena revels in Van Starr's magnificently sculptured body, she's unaware there is a lot more behind her captive's handsome face than it appears.
Huntress At Large (Huntress Chronicles Book #2)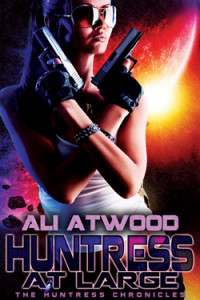 Lexine Monroe has spent her life hiding her true nature from those around her. The preternatural strength and speed that sent her to the top of her field as a criminal enforcer, dooming her to a life alone. Now, she has to team up with bounty hunter, Blane Sebastian. Racing against the clock to rescue a kidnapped child, due to be sold at auction on an outlaw, space station. Six years earlier, Sebastian was Lexine's teenage crush. Fortunately, for her, she is long past the point where a hard body and a sexy smile will put butterflies in her belly.
Huntress For Hire (Huntress Chronicles Book #1)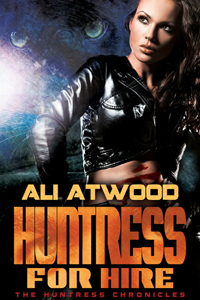 Private Investigator, Kat Monroe, is a woman to be reckoned with, an inborn huntress with predatory speed and lightning fast reflexes. Now a sadistic killer has her in his sights. Aiming to take her forward in time, where she'll be forced to fight in a gladiatorial arena. Enter Max and Brett Jericho, time traveling supercops on assignment to bring the killer to justice. Even as her world becomes deadlier, Kat is blown away by the gorgeous, future cops. When they all end up in bed together, each man fulfills Kat's long, suppressed desires. Determined to beat the killer at his own game, Kat opts to travel to the future and set herself up as bait. With her shifter supercops watching her back, what could possible go wrong?
Miranda's Misconduct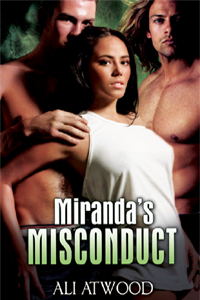 If Miranda Kelsey's friends were asked to put a descriptive label on her, it would be workaholic—a tough-minded woman who has built her London-based, realty company from the ground up, making a great deal of money in the process. If the forty-one year old Miranda told her friends she had a cougar fantasy centering on a ménage a trois with, younger, random strangers, they would never believe it.
READ MORE…
Celestial Heat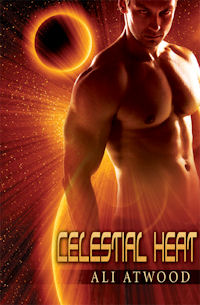 In the year 2096, Feyna Sy Tordinay knows the price of love. Once she would have given her very soul to Ketrick DeSardon, but after a few, short weeks of tender romance and phenomenal sex, the dashing Starfleet captain left her in a storm of heartache. Now she's strictly business, a clinical psychologist on her way to the top. Is she troubled by the unexpected assignment aboard DeSardon's warship? Not a bit.