SHADOW DANCE
(Special Forces Veterans ~ Book Two)
Standalone
AMNESIA ROMANTIC SUSPENSE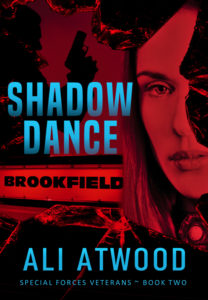 It starts when she awakens on a bus in a small California town. She has no name, no luggage, and no idea how she got here.
Special Forces veteran, Sam Butler, is in town visiting his family. His older sister, Maggie, has taken the young amnesiac under her wing, naming her Hope, and giving her a place to stay. Since Sam is co-owner of a private security firm, Maggie asks if he can tap his sources and look into Hope's past.
Once Sam comes face to face with Hope and her haunted green eyes, he can't say no. But his background probe turns up things that are very wrong. A formidable enemy could be following in the mystery woman's wake.
At the same time, Hope becomes more alarmed as she starts to recall bits and pieces of her past.
When events escalate, and it becomes a race to catch the killer before he shows his hand, Sam and Hope face complicating factors, like falling in love.