(Shifters and Lovers #1)
DOES A SECOND CHANCE AT LOVE HAVE A PRICE?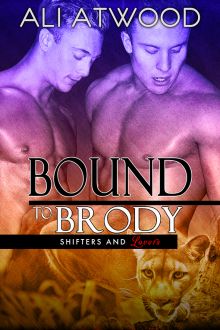 Zac McQuade is a former marine living two lives. On the surface he's a special agent for the FBI. Undercover, he's an assassin for the Secret Intelligence Service. When Zac returns to his childhood home for his niece's christening, the last person he expects to see is Brody Maitland, his former college crush. Though Zac's attraction to Brody has gone unfulfilled, he still thinks of him as the one who got away.
Dr. Brody Maitland is a practicing psychologist with a few secrets of his own. Though he has always admired Zac, he thinks he is terminally straight. Currently, Brody is conducting an off-the-record investigation, in search of a young male patient who's gone missing. Believing Zac's cover story, Brody enlists his help to solve the intricate case, plunging them both into a deadly game of intrigue and deception. As the attraction between the two very different men heats up, they are faced with the ultimate test of love and loyalty.
Excerpt
Zac pushed open the door to The Decoy Club and almost fell back from the blast of thumping music and raised voices. He grinned as he snaked his way through the mass of bodies. He'd always enjoyed the high energy of gay clubs, and this one was one of the best, crowded with guys of all ages and from all walks of life.
Heading for the bar, Zac was lucky enough to snag a seat at the far end. Above him on the mezzanine, there were rows of men leaning over the balcony railing, watching the action below. Zac was aware of the speculative glances being cast in his direction. It was liberating and reassuring to see so many like-minded men, knowing every one of them accepted him for who he was.
"Well, hello, good-looking. I haven't seen you in here before."
Glancing up at the smiling bartender, Zac automatically clicked into cover mode. "Yeah, I'm visiting friends in the area." In truth, he'd been in the club several times over the past few years.
The bartender held his gaze. "Well, if you're looking for company, I get off eleven…"
"Tempting," Zac said. "But I'm waiting for someone." Then again, if Brody wasn't on the scene, this guy was exactly Zac's type, fair-haired and well-built without being overly muscular.
"Well, if your date doesn't show, or you change your mind, I'm right here."
"Good to know," Zac said, "and I'll take a beer."
 * * * *
 As Brody entered the noisy Decoy Club, he was in a state of high excitement. Though he didn't expect that Zac and he would have sex tonight, he hoped they would make a start in that direction. It had been hell holding his feelings in check while he worked the case alongside his walking wet dream, and after that kiss…
He stopped dead and backed up when his beast detected a familiar scent, turning his head to see Zac sitting at the dim end of the bar. God, Brody thought, he looks sexy as hell, all dressed up in his cute button-down shirt.
Brody had deliberated over his outfit, not sure if he should wear jeans because Zac might. He was glad he'd changed his mind and worn tailored black trousers to go with his new burgundy Armani shirt. As he drew closer to the bar, his heart began to pick up a beat. He skirted around a group of men in business suits, and ended up a few paces behind Zac, reaching out to tap one of his muscular shoulders, then freezing in place when Zac turned abruptly with a fierce look on his face.
"Uh, hi," Brody stammered, taking a step backward. "Has something happened?"
Zac blinked and blew out a breath. "Sorry, coming up behind me like that can spook me."
Brody surmised the reaction was left over from Zac's marine days, where combatants counted on their heightened senses.
Now, he watched Zac's features soften into a slow, gorgeous smile. "So, Doctor Maitland, can I buy you a drink?"
Gazing back into those heavily lashed, electric-blue eyes, filled with sexual promise, Brody felt the blood pooling in his groin, stiffening his dick.
.