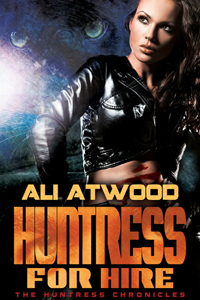 Huntress For Hire
Huntress Chronicles Book #1
Buy it today from Extasy Books!
Private Investigator, Kat Monroe, is a woman to be reckoned with, an inborn huntress with predatory speed and lightning fast reflexes. Now a sadistic killer has her in his sights. Aiming to take her forward in time, where she'll be forced to fight in a gladiatorial arena.
Enter Max and Brett Jericho, time traveling supercops on assignment to bring the killer to justice. Even as her world becomes deadlier, Kat is blown away by the gorgeous, future cops. When they all end up in bed together, each man fulfills Kat's long, suppressed desires.
Determined to beat the killer at his own game, Kat opts to travel to the future and set herself up as bait. With her shifter supercops watching her back, what could possible go wrong?
Also available from:
Amazon
All Romance Ebooks
Barnes & Noble
Excerpt:
"I must say, Ms. Monroe, I have been wondering about your kissing abilities."
Step away now, common sense advised. Excuse yourself from the case and end it. If Josh Harper played havoc with your emotions, imagine what this man could do.
Her vixen whispered, Ah, but some chances only come once in a lifetime, if you're lucky.
Kat didn't move because she didn't want to make a decision. She let herself be pulled closer until they were body to body again. Then she watched his mouth descending while her heart pounded in heavy beats. His warm breath gusted against her skin, his lips brushing over hers with a trace of moisture from his tongue. The taste of him shot straight to her core, a soft moan rose in her throat beyond her control. Hungrily, she wound her arms around his torso, pressing into his hardness. Part of her mind told her this was insanity, but he felt so good, tasted so damn good.
His palms tilted her head back. His mouth came to hers again, strong mobile lips moved gently over hers, then more firmly with the perfect amount of pressure. Kat lost herself in dizzying waves of pleasure. When she opened her mouth, he sealed it with his tongue, lightly touching the tip of hers, using just the right amount of suction to pull her tongue into the recesses of his mouth.
Oh yes, she thought, Max Jericho got full marks in the kissing department. In comparison, Josh's kisses were rubbish, lacking artistry. Wanting to prolong the moment, she did what she'd been longing to do, reaching up to catch handfuls of his black hair, smoothing the glossy strands through her fingers, while her tongue made some of its own sleek thrusts into his mouth.
Jericho's breath grew audible. His hands moving up the sides of her waist to the undersides of her breasts, lifting them slightly as his fingertips splayed upward until he found her hardened nipples. Kat gasped softly, her fingers shifting restlessly over his heavily muscled shoulders, moving her lips against his with increasing pressure as she fed both their hungers.
His hands moved downward to her buttocks and she finally felt the press of his penis, hard and full against her lower belly. Her sex clenched in response. She was so aroused, so unanchored, she felt like a stranger had taken her place. Her hands clasped his taut backside, digging her fingers into his leather pants, pulling him closer to that spot between her legs that was desperate to feel the hard heat of him moving inside her. She lowered her right hand over the outside of his trousers, then up along his inner thigh, curving her fingers over the large ridge that curved against his taut leather fly. And no one in the writhing, sweating crowd seemed to notice or care that a couple were all but doing it on the dance floor. With ever-increasing demand dictating her movements, Kat's fingers started to unzip his fly.
Max yanked his mouth away with a rushing gasp. "Wait, wait."
Kat staggered from the loss of support. Max caught her shoulders to steady her. She stared up at him with wide, dazed eyes. "What's the matter?" She was barely cognizant of the surroundings.
"We can't have sex on the dance floor plus someone just came in you need to meet."
Later her lack of control would mortify her, now Kat was too aroused to feel anything but frustration. "Who came in?" She tried to steady her breathing, looking about her.
"Over there." Max indicated toward a tall man wending his way through the crowd at the edge of the dance floor.
Kat's irritated gaze flicked toward the stranger and her face froze. "You have a twin."
He was dressed all in black, his midnight hair tied back from his face. Even in the dim light, his physical magnetism was turning female heads right and left. And now that Kat looked closer, she could see the men weren't identical. Max's face was slightly more rugged.
"That's Brett, my younger brother," Max supplied.
Kat watched a woman step into Brett Jericho's path, pushing herself against his wide chest as she went up on tiptoe to whisper in his ear.
With a smile and a shake of his head, Brett reached up to remove the stranger's hands from around his neck and kept walking. When he halted in front of Kat, she noticed his eyes were darker than Max's, like gleaming amber or strong whisky. Though he was unbelievably handsome, with the same devilish appeal as Max, there was nothing pretty about him.
"Well hello, Ms. Monroe. It's a pleasure to finally meet you."
Left in a state of arousal by one brother, astounded to feel an instant surge of attraction for the other, she spoke on a thread of breath, "Hello, nice to meet you…Brett."
His eyes glowed with mischief. "You look surprised. Did Max forget to mention me?"
Kat darted a glance at Max who was watching the exchange through hooded eyes. "Yeah, he forgot to mention you. Are you working the case together?"
Brett nodded. "Brothers against crime, so to speak…"
Kat watched the surroundings blur and go into a slow spin. She staggered slightly, putting a hand to her head "Whoa—"
"Hey, you all right?" Brett clasped one of her arms to support her.
Kat blinked to focus her eyes. "I feel…sort of woozy…like I'm going to pass out…" She'd had two drinks, spaced over two hours, which was normal when she socialized. "I don't understand—"